Texture – Viscoelasticity: laboratory or inline IQC
Most products from the cosmetics or even the pharmaceutical industries are complex, multiphasic, structured, and fragile mediums. Manufacturing is highly complicated, and requires Inline Quality Control Sensors.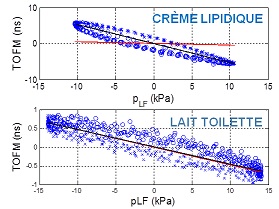 The measurement of the viscoelastic properties fluctuations inline and contact free (RheaOnline) suits the monitoring of the matter transformation processes: emulsification, homogenisation, foaming, hydration, crystallisation, gelation…

This measurement can also help to characterise homogeneity and firmness of an emulsion, as well as for the characterisation of fluids loaded with solid particles.
Personalised accompaniment / support
RheaWave supports manufacturers / industry in implementing measurement devices on site, determines which viscoelastic parameters are relevant to control, and proposes advanced data analysis.
RheaWave also offers R&D services and viscoelastic properties measurements, to solve formulation, new products characterisation or even new transformation processes issues.